Introduction
Independent, family run, 102-bedroom Georgian hotel in central London, who were not only struggling to meet the move towards cloud-based hospitality PMS solutions, but were also falling a long way short on Wi-Fi provision for the 21st Century guests. Liberty-i were invited to analyse the existing IT infrastructure and make improvements and recommendations within the following areas of concern.
Slow, or no internet connectivity for Guests and/or Staff
Outdated corporate IT infrastructure
Poor grade IT Support
No forward-thinking IT plan for future development
Poor reviews on booking website sites, with specific reference to Internet and Wi-Fi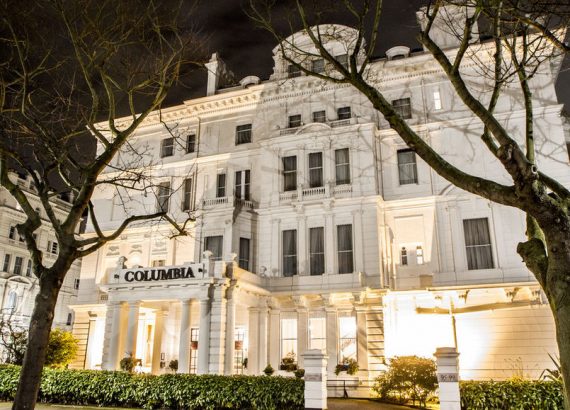 Why it was a problem

These issues existed primarily due to an organic network growth that was fuelled by necessity. Having upgraded different parts of the solution in isolation, the impact was noticeable on every operational aspect of the hotels' business; from management and staff, to the all-important hotel guests and corporate clients.
Background
Inspection and Site Survey
To work out what was required in the first instance, Liberty-i undertook a full Wi-Fi site survey and IT audit. The infrastructure was identified and a priority was determined against each service, with respect to current and future requirements. The Liberty-i site survey found the following areas of concern:
Guest and Corporate internet over 2 x consumer grade FTTC circuits
Wi-Fi only being broadcast over 2.4GHz frequency
Multiple RF black spots (no Wi-Fi signal) throughout the hotel
Corporate LAN cabling damaged
Computers out dated and not secure
No central file server
No plan for the development of the IT system
Solution
Initial Findings and Urgent Fix – Phase 1
After discussing the findings with the hotel directors and senior management, it was agreed that an immediate and synchronous, internet bandwidth increase, to both the guest access and corporate networks, was needed. Additionally, a blanket upgrade of the public access Wi-Fi network to eliminate the wireless black spots and get the guests comments back on track.
Internet Connectivity
There were many different internet solutions available, however bandwidth and service levels were key in the deciding factor. Liberty-i gave the hotel their top three Internet connection solutions:
EoFTTC – Guaranteed Bandwidth over an FTTC solution
100Mb/100Mb Bearer Lease Line
300Mb/1Gb Bearer Lease Line
For maximum bandwidth versus pricing, it was decided that the best value for money Internet solution was the 100Mb/100Mb lease line fibre.
N.B. This circuit was installed and delivered within 6 weeks of being ordered and with ZERO install cost.
Wi-Fi Network
There was only Wi-Fi solution to recommend and install and that was the Liberty-i Platinum WLAN solution, operating at both 2.4GHz and 5.0GHz frequencies, with signal levels of -65dBm, throughout the hotel. Complemented with layer 2 managed switched and powered over CAT-5e cabling, all installed by the experienced Liberty-i team, with no disruption to the hotel, or its guests. The ultimate guest logon experience was completed with a bespoke guest landing page, designed and created in house by Liberty-i.
Front Desk Infrastructure – Phase 2
With the Internet and Guest Wi-Fi now sorted, it was time for Liberty-i to implement the next stage of upgrading the corporate IT infrastructure. As many of the hotels applications were moving to cloud-based, our recommendation was for a wired LAN and secured wireless network, for multiple desk tops, printers and centralised and secure data storage. Old or incompatible hardware was replaced, ensuring a standardisation on Windows 10 and Office 365. Additional cabling and data port also ensure back office expansion was possible. The main driver for this was the cloud-based PMS and successful network handover was achieved prior to the PMS upgrade and staff training.
Recommendation
With the majority of guest access and corporate LAN issues being eradicated immediately on WLAN and Internet upgrade, it was only the continued support and controlled corporate IT network expansion to consider. Our Liberty-i Platinum 24/7 Support Agreement covers all bases for giving peace of mind back to the hotel owners, allowing them time to dedicate to what they do best.